The HTTP Server usually transfers data without compression by default. I searched in the Internet and found an article to teach me how to load and configure the compression module. (mod_deflate)

I use Debian Linux 4.0 with Apache 2.2.3 .
First, use switch user do to switch user to root (must in sudoer)
root

@

taipei

:

/

etc

# sudo su
Second, enable the Aapche2 module "deflate" to compress your transfer data.
root

@

taipei

:

/

etc

# a2enmod deflate
Third, config your /etc/apache2/mods-enable/deflate.conf . The DeflateCompressionLevel is from 0 to 9, accroding to the opinions from other's blog, they said "level 6" is the best parameter with good compression rate and medium CPU usages.
DeflateCompressionLevel

6

AddOutputFilterByType

DEFLATE

text

/

html

text

/

plain

text

/

xml

application

/

x

-

httpd

-

php

AddOutputFilter

DEFLATE

html

htm

xml

php

css

js
Then, restart your web server, everything is done.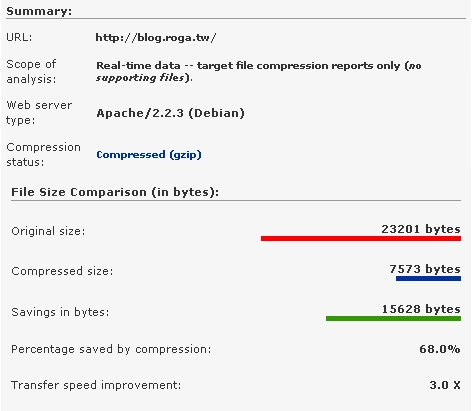 The testing result is calculated by Port80 Compression Check . Now, we know the deference between the data size with zip compresstion or not.
P.S. You also can configure the /etc/php5/apache2/php.ini to enable the "ob_gzhandle", or "zlib" (must load the zlib extention), but both of them can't compress the static html pages, js, or css files.
refer: http://twntwn.info/blog/ajer001/archives/1889, thanks for ajer's article.